Impressive Destinations
Provide attractive tourist destinations for your reference
Domestic
Sihanoukville

Sihanoukville is Cambodia's youngest city and also the capital of Sihanoukville Province, locally known as Kampong Som. With pretty white-sand beaches and surrounded by several nearby tropical islands, Sihanoukville is Cambodia's premier beach town. For those who love sea travel and want to enjoy a relaxing break, this will definitely be the ideal destination for you.
One of the highlights of Cambodia and the main reason for a trip to Sihanoukville is the island paradise of Koh Rong and Koh Rong Samloem. Located 25km from Sihanoukville, the beautiful islands have white-sand beaches with crystal-clear water and many high-quality bungalow resorts. This is an ideal destination to spend a weekend, even a week enjoying the fresh air on the beach and participating in water activities such as snorkeling or swimming.
With pretty white-sand beaches and surrounded by several nearby tropical islands, Sihanoukville is Cambodia's premier beach town. It has seven primary tourist beaches; all are easily accessible from downtown. These beaches are known for a quiet, cozy atmosphere with large stretches of white sand and clear water, which makes them popular spots for families on vacation. These seaside paradises with the refreshing coolness of the freshwater streams can be enjoyed all year round. Tourists can take a boat trip to the nearby islands for diving, snorkeling, and fishing. There are several dive centers located in Sihanoukville and the nearby islands. Diving enthusiasts will relish the chance to explore underwater wildlife, while newbies will be delighted to learn certification courses are relatively inexpensive. Guided day and overnight trips are also great ways to get the most out of your diving experience.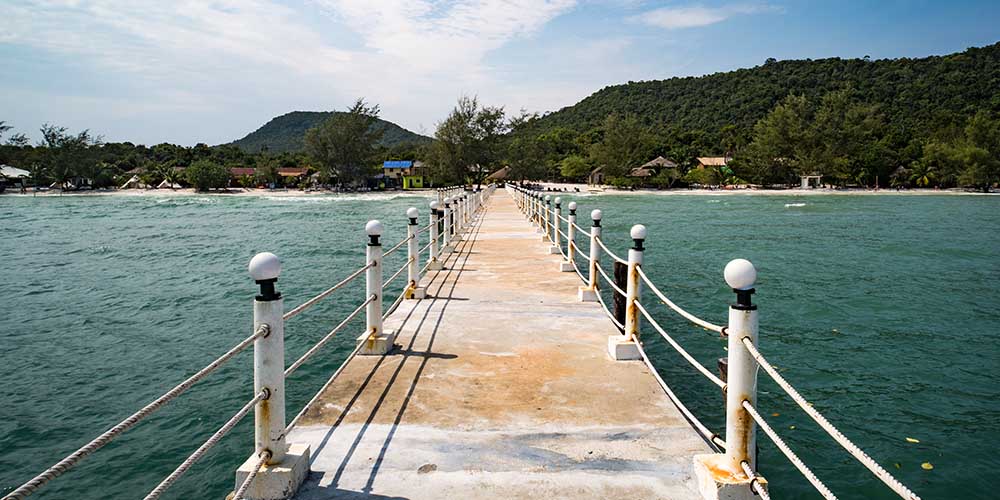 Except for spending time on the beach, you can visit and explore Ream National Park. Ream National Park is a nature reserve with diverse ecosystems and inherent pure natural beauty, suitable for those who love to explore and love hiking on the trekking route in the park. You will admire the charm of the beach, mangrove swamp and many other interesting islands.
If Sihanoukville does not attract attention for its temples and traditional culture, for Wat Krom, a beautiful Khmer Buddhist temple with a view overlooking the sea will make you admire it.
In addition, if visiting on the weekend, you can also experience shopping at the Otres market. Open only on Saturdays during high season, Otres Market is a weekend market offering a variety of fancy handicrafts and local food. The evening is the busiest time when the live music plays along with the fun dances.
All in all, there is nothing better for a honeymoon in Cambodia than join an interesting Angkor Wat tour and then chill out at the beach town Sihanoukville. It is a romantic destination for beach enthusiasts on a honeymoon as it offers several beauties that will make your special time become more memorable and impressive.
International