Impressive Destinations
Provide attractive tourist destinations for your reference
International
Chengdu

Dubbed as the "Heart of Sichuan", Chengdu is known as one of China's famous destinations. Coming to Chengdu, visitors will be able to visit and experience the beautiful landscapes and especially the rich cuisine here. Whether you're traveling for business or just dreaming about post-pandemic travel, here are the reasons Chengdu should be part of your itinerary when China reopens to the world.
Admire Giant Pandas China
When it comes to Chengdu, the giant panda may be the most attractive thing in the city. This lovely creature with its distinctive black and white coat is adored by the world and considered a national treasure in China.
Therefore, admiring these lovely pandas is an opportunity that you should not miss when coming here. When arriving in Chengdu, you will get the chance to see these pandas with your own eyes at some famous giant panda sanctuaries including Chengdu Research Base of Giant Panda Breeding, Dujiangyan Giant Panda Base, Wolong Shenshuping Giant Panda Base and Bifengxia Giant Panda Reserve. If the weather is not too hot, pandas are allowed outside during the day. You can see them playing, eating, climbing and sleeping. Giant pandas spend haft of their day eating and most of the rest of the day is spent in their sleep. They are very flexible and can hold their chubby bodies in many different positions: snoozing on their side, back, or belly, either sprawled or curled up.
Enjoy great Sichuan cuisine
Chengdu is a foodie's paradise and you can enjoy fomal Sichuan cuisine, one of the four great cuisines of China. Sichuan cuisine is famous for its spiciness, If you love spicy food, you should try mapo tofu (tofu fried with minced meat, chili and Sichuan peppercorns), kung pao chicken (a dish with chicken, peanuts, and hot pepper as the ingredients) and the most popular hot pot. If you don't like the very spicy flavor, you can ask the chef to cook for you with less or no chili.
Also, you can sample diverse roadside snacks in the food courts of Chengdu, such as barbecue, kebabs, stinky tofu, fried potatoes, dandan noodles, pineapple rice, etc. To try these delicious foods, it's best to head to Jinli Old Street and Kuanzhai Alley which are packed with a large number of bars, restaurants, and traditional delicacies.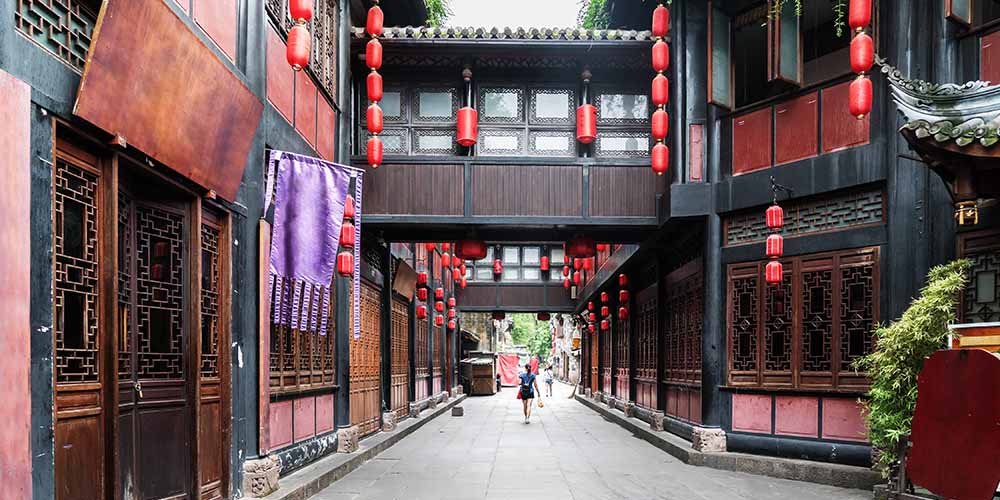 Explore cultural heritage
As a national historical and cultural city, Chengdu displays its traditional cultural heritages such as Sichuan opera, Buddhist culture, Shu embroidery, bamboo porcelain, and more.
Leshan Giant Buddha and Mt. Emei, together listed as a UNESCO World Heritage Site, are the "Mecca for Chinese Buddhists". Leshan Giant Buddha is the largest and tallest stone Buddha sculpture in the world with a height of 71 meters. It is chiseled into the cliff and took 90 years (713 AD-803 AD) to complete.
Mt. Emei is one of the Four Sacred Buddhist Mountains in China. A massive statue of Samantabhadra sits at its summit. You will have a chance to visit many ancient Buddhist monasteries and precious cultural relics here. Its steep terrain and stunning scenery also make it become a famous scenic area, summer resort, and recuperation place.
Admire the nature's beauty
Apart from the rich culture, leisurely life and delicious food, you will be lost in wonder at Chengdu's natural beauty. You can pay a visit to the Qingcheng Mountain nearby, also known as Green City Mountain because the towering peaks covered with a dense forest of ancient trees are thought to resemble the city battlements. Besides, Chengdu is a central city and a transfer station connecting various scenic spots all around. Many tourists head here first to have a rest and get ready for their trips to other spots in Sichuan.
Choosing to travel to Chengdu, visitors will admire the harmonious combination of tradition and modernity. Historical relics, majestic natural landscapes and unique modern works promise to bring you unforgettable impressive experiences.
What are you waiting for, hurry up and book a flight ticket to Chengdu with us to enjoy preferential services and save more costs.
International