Impressive Destinations
Provide attractive tourist destinations for your reference
International
Wuhan

Once overshadowed by its cosmopolitan neighbors, Hubei Province's capital city is quickly finding its way into the limelight. Comprised of three ancient towns and divided by Asia's largest river, Wuhan is not only historically significant, but also a major player in China's rapidly developing future. Here are some reasons why you should add Wuhan to your travel itinerary.
Delicious local cuisine
The first highlight of Wuhan is the attractive dishes with bold flavors of Chinese culinary culture. You can easily find the food here in luxury restaurants, and also in street vendors.
Each region will have its own proud features of its inherent specialties, even the most demanding travelers visiting here must be satisfied when enjoying them. In particular, Wuhan also has quite a few restaurants with many simple but unique vegetarian dishes. The Wuhan food experience will definitely make your travel memorable and unforgettable.
Long history
With over 3500 years of history, Wuhan has enough cultural relics to keep even the most steadfast tourists busy. As well as being a historical inland trading port and a colonial British settlement, Wuhan was also the location of the Wuchang Uprising which led to the overhaul of the Qing Dynasty. The city has long been celebrated for its contribution to the arts and is the proud home of the Yellow Crane Tower; a building which inspired the work of the renowned Tang Dynasty poet, Cui Hao.
Attractive cherry blossom festival
Springtime in Wuhan means blossoms. Come March, cherry, plum and peach blossoms simultaneously burst into life, luring photo-hungry sightseers to some of the most impressive flower gardens in the country. Wuhan University campus is perhaps the most celebrated spot. Stretched alongside the dormitory building, Cherry Blossom Avenue is home to nearly 200 Tokyo cherry trees. This sight alone attracts over 100,000 visitors during the week in spring when the blossoms are at their finest.
Many beautiful places to visit
Coming to Wuhan, visitors will certainly not be able to resist the beautiful attractions with a long history here. First of all, Yellow Crane Tower - a famous place like a fairyland and a symbol of Wuhan city.
Followed by Wuhan University is also one of the famous architectural landmarks of Hubei. The school is decorated with eye-catching lapis lazuli green tiles, solid brick walls and cherry blossom trees that always show off their colors every spring.
In addition, travelers can also explore the beauty of Wuhan city through other outstanding tourist attractions such as East Lake, Mulan Mountain, Wuhan Jianghan Street, Wuhan Bridge over the Yangtze River – the longest river in China…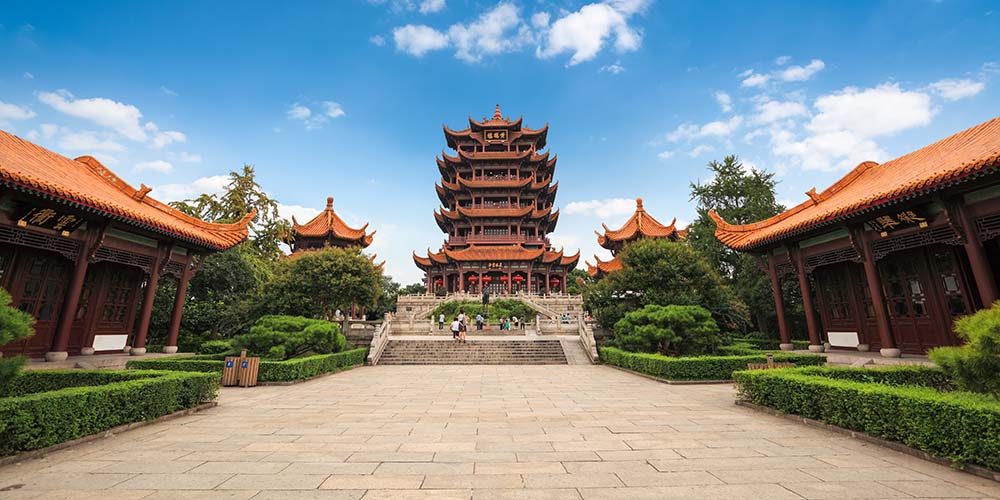 Nightlife
Nightfall in Wuhan by no means signals the end of play. Whether you choose to sip cocktails on a fifth floor rooftop, or sit on the roadside with a bottle of local beer, there is no excuse for hiding away in your accommodation. Grungy rock pubs, Belgian beer taverns and eloquent wine bars are all on the cards. For anyone seeking a more authentic experience of Chinese nightlife, the go-to option is karaoke. Fortunately Wuhan has a KTV joint on almost every corner, so grab a booth and join the singing.
Wuhan is a beautiful city with lots of places to visit, delicious food and loads of amazing views. What are you waiting for, let's plan a trip to this city right now!
International