Impressive Destinations
Provide attractive tourist destinations for your reference
International
Nanning

Nanning is close to scenic Guilin, with its world-famous hellscape, northern and western Guangxi and its minority villages, and the border with Vietnam in the south. Nanning is truly a garden city with charming natural subtropical scenery. Here are some reasons why you should visit Nanning once in your life.
Qingxiu Mountain Resort
The resort starts from Qingshan Road in the west, going clockwise, along Zhuxi Road, to south of Minzu Avenue in the east; from east to west going clockwise, the resort covers the intersection of Minzu Avenue and Yongning County, along the boundary of Nanning and Yongning to San'an Bridge, then along the 200-metre reserve belt along the south of the Yongjiang River to the north of Nanning Bridge.
Nanhu Lake Park
Located in the southeast of Nanning City and features aquatic sceneries and subtropical gardening landscapes, Nanhu Lake was once a brook connecting to a river.
In the park, tourists can fully appreciate the views of various plants, such as Pinang, Chinese fan palms, and other tropical trees. There is a garden with hundreds of precious flowers and bamboo, containing three attractive inner gardens, the Chinese herbal gardens with over 200 kinds of Chinese herbs, the orchid gardens and the bonsai gardens. A visit in the gardens will reward you with not only abundant knowledge but also the pleasures of natural beauty. Nanhu Lake is an ideal place to entertain oneself.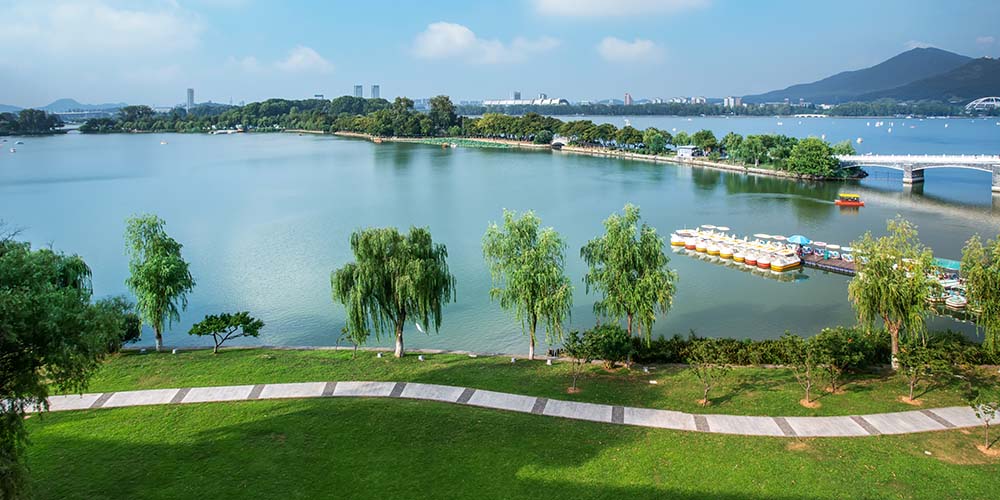 Daming Mountain
A world-class natural reserve in Guangxi, Daming Mountain has an average height of 1200 meters. Its central peak (which reaches 1764 meters) is the highest in the south-middle region of Guangxi. Daming Mountain presents something new in each of the four seasons, therefore providing an all-year-round sightseeing experience. Visit the four well-known seasonal sights of Daming Mountain - the waterfall in the summer, the clouds in the autumn, the snow in the winter, the mist in the spring - to get a taste of what each part of the year has to offer.
Yiling Cave
The Yiling cave in the suburb of the Nanning is a unique one bearing not only beautiful stones but also the culture of Zhuang ethnic minority.Yiliang Cave is a karst cave formed a million years ago as it is estimated by geologist, which looks like a whelk.
With so many beautifully shaped stone flowers, pillars, curtains, stalagmite and stalactite, visitors may find different sights at each step. Created with prodigious skill, sights in the cave are ever-changing scenery of rare beauty.
Guangxi's cuisine is among the best in China, with great noodle, chicken, and pancake specialties to try. For the best food in town, try Nanning Muslim Hotel and Líyŭ Cūn, while you won't go wrong by picking somewhere on Zhongshan Road.
The best time to visit is October and November, which is Nanning's festival season. Catch folk music, food events, and great sightseeing weather when you visit in the fall.
International