Impressive Destinations
Provide attractive tourist destinations for your reference
International
Kuala Lumpur

Kuala Lumpur, the capital city of Indonesia is one of the most attractive and ideal destinations in Southeast Asia that any tourist should visit once. Many people visit this magnificent city because they are drawn to its modern lifestyle, excellent shopping, world-class cuisine, pristine beaches or eventful nightlife. Not only that, Kuala Lumpur is also one of Malaysia's major business centers, bringing people together - that's why it's really worth a visit.
Coming to Kuala Lampur, visitors are overwhelmed with the splendid Petronas twin towers, towering in the blue sky as a symbol of modern Malaysia. This is the tallest twin tower in the world including 88 floors with the Skybridge connecting the two towers.
Besides, you can also visit Menara tower, also known as KL Tower, a 421m high telecommunications network tower located in the heart of Kuala Lumpur. Observatory located inside Menara KL is the best place to see the whole of Kuala Lumpur.
If you have a trip with your family, let visit Aquaria KLCC. It is considered the largest aquarium in the world with more than 5.000 freshwater and saltwater creatures including giant arapaimas, giant grouper, garfishes and more.
Thien Hau Pagoda is the most famous Chinese temple in Malaysia with a large number of tourists everyday. Coming here, you will be amired the unique architecture, take some so deep photos and see the traditional Chinese-style wedding or see the whole of Kuala Lumpur from the 4th floor.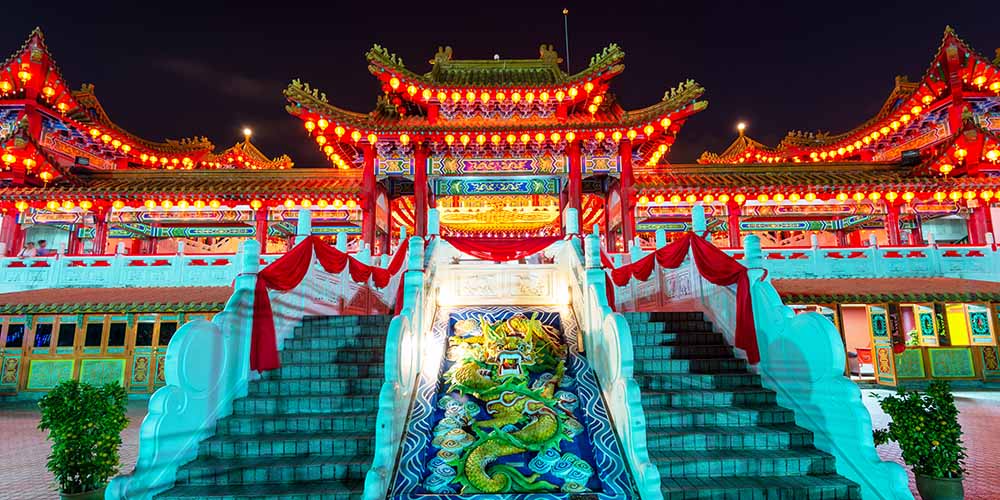 Famous for the place preserving Malaysia rich and diverse history, Kuala Lumpur has many art Musiums. Whether it is the collections which is managed strictly in galerries or road imbued with ancient culture, surelly Kuala Lumpur is always proud of its blend of cultural art and modern life. You can spen all day learning about history here, from the beautiful halls of the National Islamic Museum to the alleys of Jalan Pudu and Brickfields and witness the city grow through its architecture and inhabitants.
Located in the heard of city is the Bukit Nanas Forest Reserve, which you should visit to have a glimspe of widelife in their natural enviroment. It is also the oldest reserve in the city with the dates of more than 100 years. This reserve is home to many residents as Silver Leaf Langur. For a unique experience, you should walk around the reserve to see and admire the lush foliages, trees and climbers. This is really a great place to visit.
Chinatown is the next destination you can not miss when visiting Kuala Lumpur. You will be able to freely try many delicious dishes such as Spicy Pan Mee, Wonton noodles, Hokkien Mee and buy typical gifts, teas or coffee to give to family or friends.
Bukit Bitang is where you can fully enjoy the nightlife of Kuala Lumpur. You can have dinner or visit bars or club located right on the road with friends. In additon, Jalan Alor – the food street located near here is a paradise for those who love to eat with all kinds of dished from West to Asia.
There are many interesting and attractive things in Kuala Lumpur that anyone who intends to travel to Sounth Asia can not miss. Tourist can combine tours to Singapore and Malaysia to be able to make full use of travel time.
Kuala Lumpur is the gateway for many international airlines so it is very easy for tourists to visit this city. In addition, you can easily reach Kuala Lumpur by other means such as bus or train if departing from Singapore.
As a country with relatively developed traffict, you can easily travel around the city as well as nearby destination by bus Hop On Hop Off or Sunway BRT, Monorail or taxi. If you choose public transportation to travel in the Kuala Lumpur, you should buy a payment card which as same as Ez-Link in Singapore to save and more convenient.
With a warm climate and cool weather all year around along with rich vegetation and diverse lanscapes, Kuala Lumpur – "the tropical paradise" of the Sounth Asia is a place where you can freely travel at any time of the year. Plan a journey to explore Sounth Asia contries. BOOK NOW to get the best deals.
International