Impressive Destinations
Provide attractive tourist destinations for your reference
International
Guangzhou

One of China's most ancient cities, Guangzhou has long been connected to the West — first as a thriving trade port and, more recently, as a manufacturing and garment hub. But the country's third-largest metropolis is quickly shedding its skin and evolving into a fashionable getaway thanks to an influx of new restaurants, hotels and cultural experiences. Guangzhou is worthy of your travel, for its historical sites, natural sites, and cultural sites. Here, we will introduce Guangzhou in detail to you, and tells top reasons to visit China.
Enjoy one of the "eight great styles of Chinese cuisine"
This is the birthplace of Cantonese cooking, and there's no shortage of fantastic dim sum spots, high-end venues and casual snack stalls around town to satiate your craving. Cantonese cuisine is possibly as famous as French cuisine across the world. Due to a large number of overseas Chinese from Guangdong, it is the style of Chinese food served in most Chinese restaurants around the world. For an ultra-luxurious experience, we'd suggest booking a table at Lai Heen, the signature fine-dining restaurant of The Ritz-Carlton, Guangzhou. It's a sanctuary of calm, serving exquisite dishes such as poached sunflower chicken, braised shrimp and delicate crab — complete with wine pairings from the sommelier.
Admire Canton Tower and CTF Finance Centre Views
Whether seeing them from the outside or going inside, these two skyscrapers are big attractions and a witness to the development of Guangzhou.
The Canton Tower is China's tallest and the world's second-tallest tower, and you'll enjoy fabulous views of the Pearl River and the city from its observation deck. The Canton Tower is 70 meters taller than the new CTF Finance Centre located nearby, which is the world's eighth tallest building.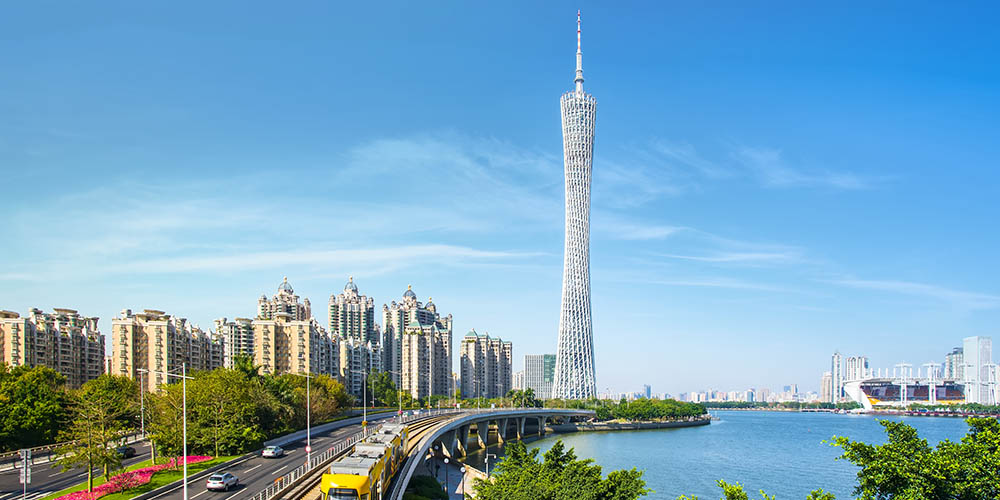 Visit Modern Architecture
The heritage architecture provides a peek into Guangzhou's past, while modern construction establishes the city as the powerhouse it is today. A walk along the Tianhe promenade — a pedestrian area just north of the Pearl River in the Central Business District — connects you with many of the city's contemporary architectural highlights.
Head to Huacheng Square to take in the Zaha Hadid Architects-designed Guangzhou Library, the funky Guangdong Museum, the towering International Finance Centre and, across the river, the twisting Canton Tower — home to the world's third-highest observation center and tallest Ferris wheel. It's a little bit touristy, but the transparent cabins tracing the roof's periphery provide soaring views over the city.
Experience the top shopping destination
Hailed as China's answer to Bangkok, Guangzhou is a top shopping destination. High-quality designer copies are popular and BuYun Shoes World Plaza - Global International Trade Center and the Huimei Clothing Market are both worth visiting. Of course, you can also get the real thing in the city's upscale malls such as TaiKoo Hui and Grandview Mall.
Guangzhou is one of many cities in China with a 72-hour visa-free transit policy. This is particularly useful for Guangzhou as Baiyun Airport has so many international connections. You could see the best of Guangzhou without the hassle of getting a visa!
Whether you have a 24-hour layover or a week to spare, Guangzhou is well worth a visit. Let start your journey with us to explore this China's most ancient city.
International