Impressive Destinations
Provide attractive tourist destinations for your reference
Domestic
Siem Reap

Referring to Cambodia tourism, in addition to Phnom Penh or Sihanoukville, Siem Reap is also a destination not to be missed for tourists. If Phnom Penh is modern and brilliant, Sihanoukville is a fresh island paradise, Siem Reap brings a mysterious beauty with historical ruins and architectural works tinged with time. Sp what attracts people to Siem Reap? Here are the reason why you should visit this city once in your life.
The Timeless Beauty of Angkor Wat
There's only really one reason why so many people come to Siem Reap and it's for Angkor Wat. The temple is the world's biggest religious structure and its size is breathtaking. You have to remind yourself that this temple was built nearly 1000 years ago without any of the technology we have today. It's not fully known how the ancient Khmer constructed such large temples with such precision.
Today, it's become one of the world's most famous buildings and is instantly recognizable. As Siem Reap is only a few kilometers away from the famous temple, it's become the center of tourism in Cambodia as the temple continues to draw large crowds.
In addition, there are many other famous and attractive temples such as Ta Prohm ỏ Bayon that are very worthy to visit in your trip.
The vast Tonle Sap lake
Tonle Sap is the largest freshwater lake in not only Cambodia but in the whole Southeast Asia, featuring a unique and diverse ecological system. With over 100 species of waterbirds, including several endangered species, over 300 species of fish, as well as 20 varieties of snakes, 10 varieties of turtles a crocodile species, and a leopard cat species, otter and other wildlife inhabit the inundated mangrove forests, Tonle Sap is indeed the most important ecological regions in Cambodia.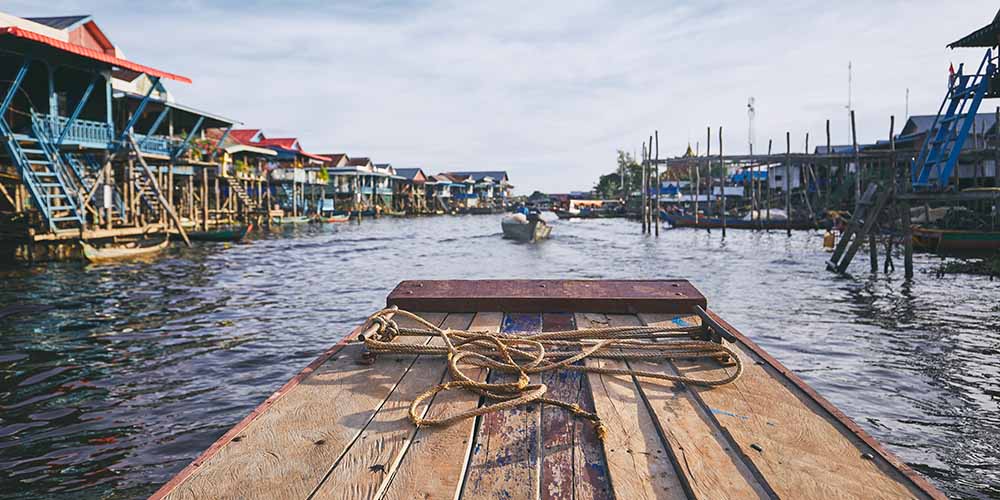 Try the vast street food
Going to the traditional market is an indispensable activity when traveling to Siem Reap. Visitors can witness the daily life of local people, participate in games and most importantly enjoy excellent street food. A few options that you should not miss are deep-fried eel with chili sauce, sweet sticky rice in a bamboo tube or fragrant leaf cake served with fish sauce. All you need to do is prepare a… hungry stomach.
The friendliness and warmth of the locals
When you ask most visitors to Siem Reap why they love it here so much, nearly always the answer is the same. People will often tell you that "Cambodians are genuinely friendly" and they aren't wrong. Like all places in the world, there are good and bad people everywhere. However, it seems that in Cambodia, everyone is nice!
You'll make new friends nearly everywhere you go and it's a genuine friendship. It's common for your tour guide or tuk tuk driver to invite you back to his house for a party or a drink. You'll end up having a great time, meeting some great people, and making new friends when you come to Siem Reap.
Affordable price, comfortable shopping
Regarding financial issues when traveling to Cambodia, you can rest assured that it will not have to spend too much money. Transportation, food and accommodation services are very affordable and are served enthusiastically and thoughtfully. Most of the food, drinks, souvenirs tor clothes are handmade and locally produced so they have a very reasonable price for many tourists coming here.The items that are bought and sold are extremely rich with many different categories from high-end to affordable.
Siem Reap is a great place to visit and there are hundreds of reasons why you might visit. The above are just a few of the main reasons for a visit to Siem Reap, but after you have spent a few days exploring Angkor Wat and dining in town, we are sure you will have hundreds of reasons why you will love it. What are you waiting for, book your tickets with us now to start your journey!
Domestic