Impressive Destinations
Provide attractive tourist destinations for your reference
Domestic
Phnom Penh

Phnom Penh, Cambodia's bustling capital, is one of Asia's most unusual and interesting cities. Not only attracts tourists with bustling economic activities, but Phnom Penh is also an attractive destination for people to freely experience the culture, cuisine, and life of the people here.
Discover the reasons why you should visit here once in your life:
Explore Phnom Penh Royal Palace with Silver Pagoda:
These palace grounds are located in the heart of Phnom Penh and are considered one of the main attractions of the city. This place is a complex of buildings - the residence of the Kings and royal families in Cambodia. This site is also the place where Cambodian ceremonies and diplomatic meetings take place.
You can only marvel at many of the buildings from the outside. The architecture of the royal palace in Phnom Penh is a little reminiscent of that in Bangkok, however less imposing and not nearly as spacious.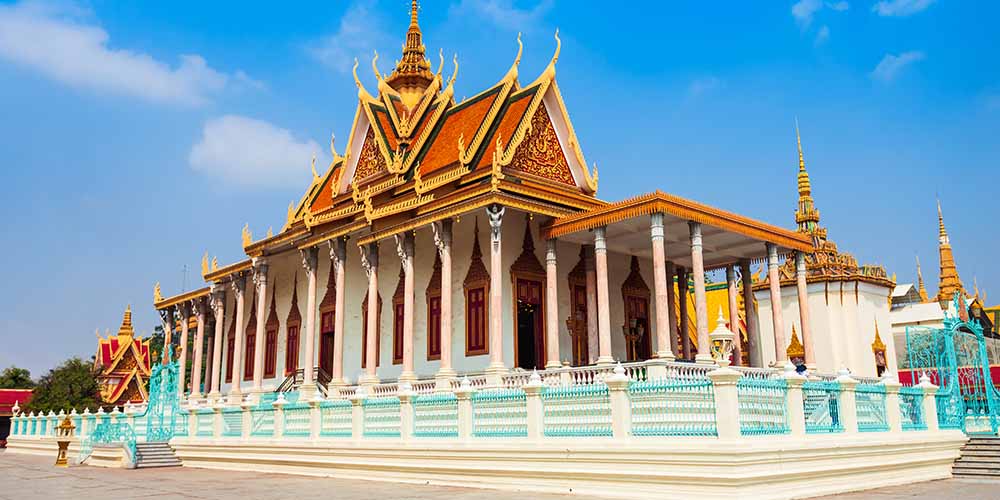 Admire the beautiful historical architecture
You will not be able to miss the opportunity to admire the temples and pagodas bearing the symbol of the Cambodian people. Angkor Wat is a significant tourist spot which famous for its grand architectural design with its intricate carvings and towers that have stood the test of time. And did we mention that the sunrise here is a must-see? Try to come early in the morning to witness as the sky peeking behind Angkor Wat turns different hues of red, yellow, and orang
Wat Phnom is one of the oldest and most ancient temples in Phnom Penh. Many people recount that the birth of this temple is associated with the beginning of the city of Phnom Penh.
Rest and relax at unspoiled natural beaches and islands
While Cambodia is known for its many temples, it's also prominent for its heat. Care to get out of Siem Reap for a little beach getaway? Otres Beach is Cambodia's white-sand beach lined with casuarina trees. The warm sun, salty waters, and cool morning breeze await you every morning here at Otres Beach. You can sunbathe, swing on hammocks, have a picnic, swim, swim, and swim again! Whatever you decide to do, make sure to turn work off, and relaxation on.
Another beach destination in Cambodia is Koh Tonsay, a peaceful beach destination that's not only known as a good spot for swimming but also because people actually go here to play group sports like beach volleyball and have picnics with family and friends! It may be a tiny island, but it's got a great beach and ambiance. To cap off your beautiful sunny beach day, make sure to secure a front seat on the beach and watch the sunset!
Rest and relax at unspoiled natural beaches and islands
Phsar Thmei Central Market is one of the busiest markets in Phnom Penh that you should definitely not miss when you have the opportunity to travel here. The market was built with unique architecture in the style of the French. Here, visitors can both visit and freely choose to buy all kinds of goods such as clothes, fabrics, souvenirs, and jewelry.
Sisowath Quay is one of the ideal places for you to have fun and watch the life of the people in Phnom Penh. This area is located along the bustling Tonle Sap River, so Sisowath Quay is known as the New West Quarter in Phnom Penh.
Although Phnom Penh is the capital and largest city in Cambodia, you can still easily reach most of the prominent tourist attractions in the city center by foot or by tuktuk.
The best time to visit Cambodia is anytime between November and April for the best weather - not too sunny, not too gloomy, and clear skies.
But before you book your flight tickets and hit the road, you must first prepare and have your travel requirements to Cambodia ready. That's where we come in as your travel buddy.
Cambodia has thousands of temples for you to explore like the iconic Angkor Wat, Bayon Temple, and Banteay Srei. That's not all, though. The country also boasts beautiful beaches like Otres Beach, Koh Tonsay, and Preah Sihanouk. From cultural trips to a summery getaway, Cambodia's got you covered! It's a destination you simply can't miss if you're down for a fuss-free vacation.
Domestic